Top-Quality Lawn Maintenance & Landscaping Services for Properties in Winchester, TN
We offer lawn maintenance, hardscape installations, irrigation, and landscaping services.
Winchester is a city in Franklin County, TN, and is called home by around 9,500 residents. This quaint city provides the perfect balance of suburban and rural living, as it's part of the Tullahoma metropolitan area and is located near several beautiful parks. For example, Tims Ford State Park is on a scenic lake by the same name, where you can hike and camp. This city also has museums and other sites that speak to the state's history and distilleries that craft the infamous Tennessee whiskey.
Winchester is a hidden gem in Tennessee, and at Five Star Lawn and Landscaping, we transform homes and businesses here with our top-quality lawn maintenance and landscaping services. While these services will give you a beautiful, manicured lawn and landscape, we also offer hardscape installation and irrigation services! Our hardscape features are as stunning as they are long-lasting, and we can perform anything from installing irrigation systems to repairing them.
---
We offer lawn maintenance and landscaping services to keep your property looking manicured and neat.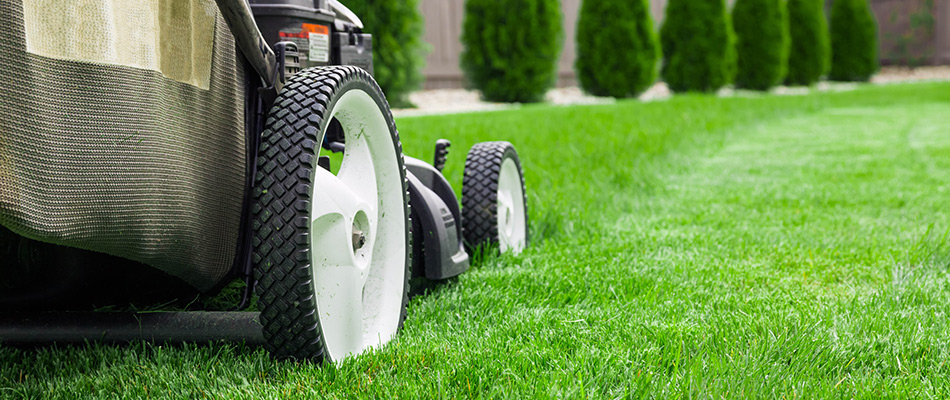 Maintaining your lawn and landscape is a lot of work, but we're here to help! We'll keep your property manicured and neat with the following lawn maintenance and landscaping services:
Lawn Mowing: We can mow your lawn weekly or bi-weekly from March until December. That way, your turf will stay at an ideal height throughout the growing season.
Trimming & Pruning: We'll trim your plants in late spring and at the end of fall to spruce them up. Then, we'll practice selective pruning to keep them healthy.
Mulch & Rock Installation: We can install rock or mulch in your landscape beds to enhance their aesthetic and keep your plants healthy!
Leaf Removal: We offer our leaf removal service from October until December to take this dreaded chore off your hands. We'll blow out any leaves on your lawn and landscape beds and rake them onto a tarp. Then, we'll haul them away so you can enjoy a leaf-free property!
Yard Cleanups: We offer yard cleanups in the spring and fall, which includes lawn mowing, landscape bed reshaping, plant trimming, and debris removal.
Landscape Renovation: We can renovate your landscape beds for a new, fresh look.
Annual Flowers: Flowers will add a colorful display to your landscape beds, and we'll plant popular annuals like wax begonias, pansies, and more!
Artificial Turf: If you want a low-maintenance lawn that stays beautiful and green year-round, then our artificial turf installation service is for you!
---
Take Your Outdoor Living Space to the Next Level With Our Hardscape Installation Services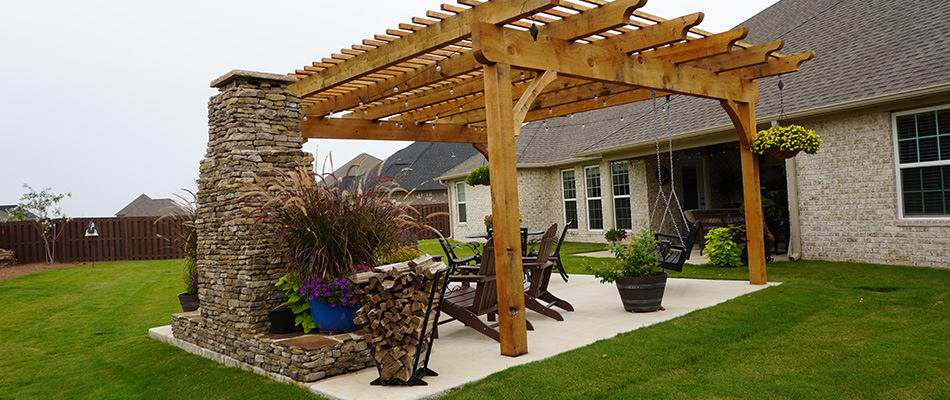 If you want to take your outdoor living space to the next level, our hardscape installation services are what you need to do just that! We can install various features that are as stunning as they are long-lasting, including all of the following:
Patios: Encourage gathering outside with an equally durable and beautiful new patio! We offer various materials to build yours, including concrete pavers, flagstone, natural stone, and more.
Walkways: We can install a functional walkway to make navigating different areas of your property more convenient.
Driveways: We'll replace your average driveway with a beautiful new one, which we can build from concrete pavers, natural stone, flagstone, and more!
Outdoor Steps: Our natural stone outdoor steps will make a great addition to your property.
Retaining Walls: We can install an equally functional and decorative retaining wall to prevent soil erosion and level out sloped areas.
Seating Walls: A seating wall will provide durable, built-in seating for your outdoor living space.
Fire Pits: Enjoy a fire on a cold night with a new fire pit! You can choose to have yours burn natural gas, wood, or propane, and we can even add stonework to make it a stunning focal point.
Outdoor Fireplaces: An outdoor fireplace is a more modern, private way to enjoy a fire in your outdoor living space, and it can be either wood, natural gas, or propane-burning.
Outdoor Kitchens: We can install a custom outdoor kitchen with everything you'll need, including a sink, refrigerator, grill, and more!
Landscape Lighting: Our landscaping lighting will brighten your property at night for safer use, but we can also utilize techniques to draw attention to your focal points.
Pergola Installation: We'll use western cedar to construct your custom pergola.
Swimming Pool Installation: Cool off during the hot summers with a stunning new swimming pool!
We offer 2D and 3D design renderings so that you can see how your landscape project will look before installation begins.
---
Our irrigation services include installations, startups, repairs, and more.
Irrigation systems are crucial to keep your lawn and landscape watered properly, dispensing the right amount to optimize efficiency. We offer the following irrigation services to property owners in Winchester, TN:
Irrigation Installation: If you want to install a new irrigation system for your property, we're the ones for the job.
Irrigation Startups: We'll get your irrigation system up and running again in April, checking for leaks and adjusting any sprinkler heads as needed.
Irrigation Winterization: We'll shut down your irrigation system for the winter in October.
Irrigation Repairs: We can repair any problems with your irrigation system, including replacing the sprinkler heads.
---
Schedule Any of Our Lawn Maintenance & Landscaping Services Today
At Five Star Lawn and Landscaping, we offer top-notch lawn maintenance and landscaping services to residential, commercial, and HOA properties in Winchester, TN. But wait, there's more - we also install hardscapes and perform various irrigation services! Call (256) 975-0529 to schedule any of our services today.